Boat Name:

Tan Man

Captain:

Matt Davis

Length:

44

Pricing: Reef full day - $1800
Offshore full day - $1800
Half day - $1100

Special Pricing:

N/A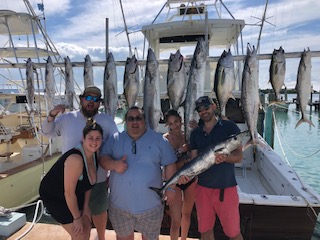 Islamorada offshore charter fishing is among the best anywhere, and can provide the thrill of a lifetime. I, Captain Matt Davis of TAN MAN, offer deepsea fishing at its best on the fertile waters of the Keys, on the comfortable fishing rigged 44′ sportfisherman TAN MAN. Islamorada, the Sportfishing capital of the world, offers a tremendous variety of deep sea and reef fishing options all year, and we target species such as as dolphin (mahi-mahi), sailfish, grouper, snapper, wahoo, tuna, cobia, kingfish and amberjack.
The techniques I use to target such fish include: drifting; slow, medium, and fast trolling; anchoring over certain hot spots and deploying live and dead bait. We also fly kites for sailfish, larger kingfish and tuna.
The boat is rigged with top-of-the-line fishing tackle that is meticulously maintained for reliable performance. TAN MAN is equipped with the latest safety and fish-finding gear, and offers a comfortable air-conditioned salon, which allows you to escape the sun and give you somewhere to cool off.
We welcome families and anglers regardless of their fishing expertise. TAN MAN enjoys taking family charters; there is nothing like spending a day on the water with your loved ones. We are located at the Bud n' Mary's Marina in Islamorada at mile marker 79.8 (oceanside) in the Florida Keys. We offer full days, 3/4 days, and half days.
TAN MAN is a 44′ Henriques, which are known for their large cockpit allowing for plenty of room to experience all of the aspects that go into a day on the water. To go along with the large cockpit we have a large, air-conditioned salon, which includes a dinette and a comfortable couch to relax on after catching that big one, or, if you just want to get out of the sun. The boat is also rigged with top-of-the-line fishing tackle that is meticulously maintained for reliable performance.
She is rigged with the latest safety equipment along with fishing-finding equipment, as well as a GPS full of hot spots.
From the experienced anglers to the novice, TAN MAN and her crew will be right there to assist you to make sure your trip is a success. We cater to families and can also arrange to reserve another boat for larger parties that may require two or more boats.