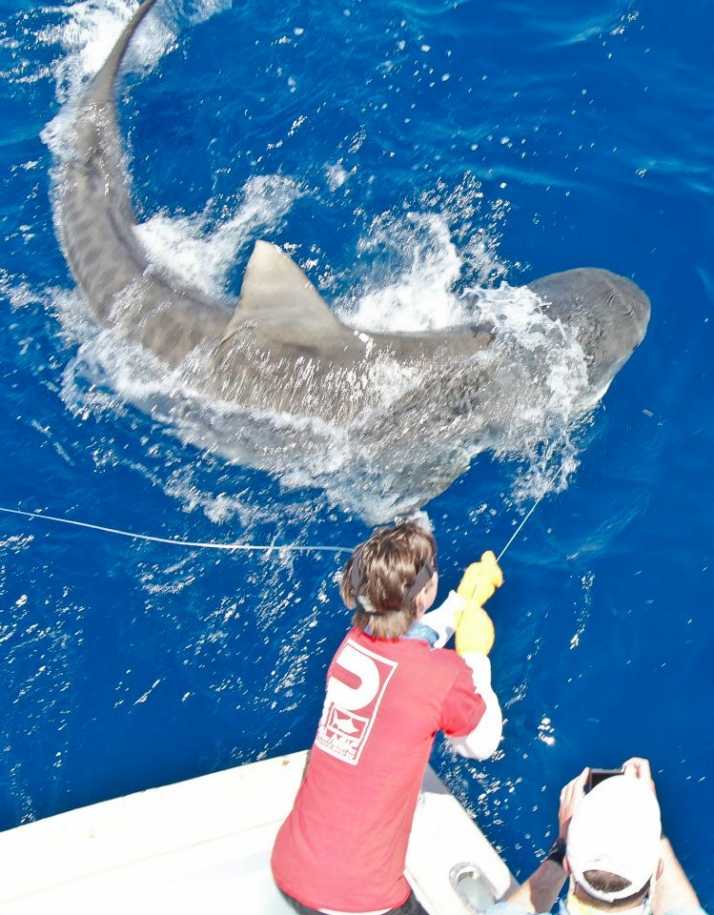 Shark Fishing in Islamorada
has become extremely popular the last couple of decades. We catch sharks all year long and on both sides of Islamorada, meaning offshore and in the backcountry. Our shark fishery is all catch and release. We primarily use circle hooks to help ensure a healthy release. The time of year will dictate what species of shark you can try to catch. Both kids and adults love
catching sharks
since they put up such a great fight!
Our heavy tackle MONSTER Shark Fishing is best from March through May. The amberjack spawn this time of year offshore on the humps, which creates a feeding frenzy with giant sharks. These bad boys include massive tiger sharks up to 1000 lbs, hammerheads up to 500 lbs, bull sharks up to 400 lbs, and a variety of others. Sometimes people catch the hard fighting amberjack, nicknamed "reef donkeys", and then we stick the 40 lb jack out for bait! These are true monsters and are without a doubt considered "trophies".
Since we don't keep the sharks, fiberglass replicas are often made, which are called "release mounts". We get a good estimation of the size and a picture next to the boat, and then the taxidermist will make what could only be described as a "piece of artwork".
Every person that see's it on the wall will want to hear the story behind it. From August through November we also catch big dusky sharks, silky sharks, bull sharks, hammerheads, etc. The rest of the year there are always a few sharks around too, both on the reef, wrecks, and further offshore.
The backcountry is also home to a variety of different sharks. In the winter months we see lots of acrobatic spinner sharks (which jump and twist), blacktip sharks, bull sharks, bonnetheads, etc. In the spring and summer months the lemon sharks are extremely active, as well as many of the other species. All of this shark fishing is light tackle (10 – 30 lb test), and is catch and release. Many of these sharks are 10 – 100 lbs, but a 200+ lber isn't uncommon! We often catch smaller stuff to use for bait such as ladyfish, which we use both live and dead. You also have shots at plenty of other large species while your shark fishing, such as tarpon, sawfish, goliath grouper, cobia – you never know what may grab your bait!
So when your are ready to go fishing for sharks in the Florida Keys, mention it to us and we will get you set up. On many trips you can shark fish for part of the day, and then still spend the rest of the time going for other fish. Sharks are usually readily available just about any time of year, however at time they can be tough just as anything in fishing. In particular with the backcountry fishing, they can be tough when the water is cold during a cold front. Sharks can make a great trophy to hang on the wall as well. We almost always practice catch and release with sharks and a fiberglass replica mount can be created with a simple measurement of the fish.