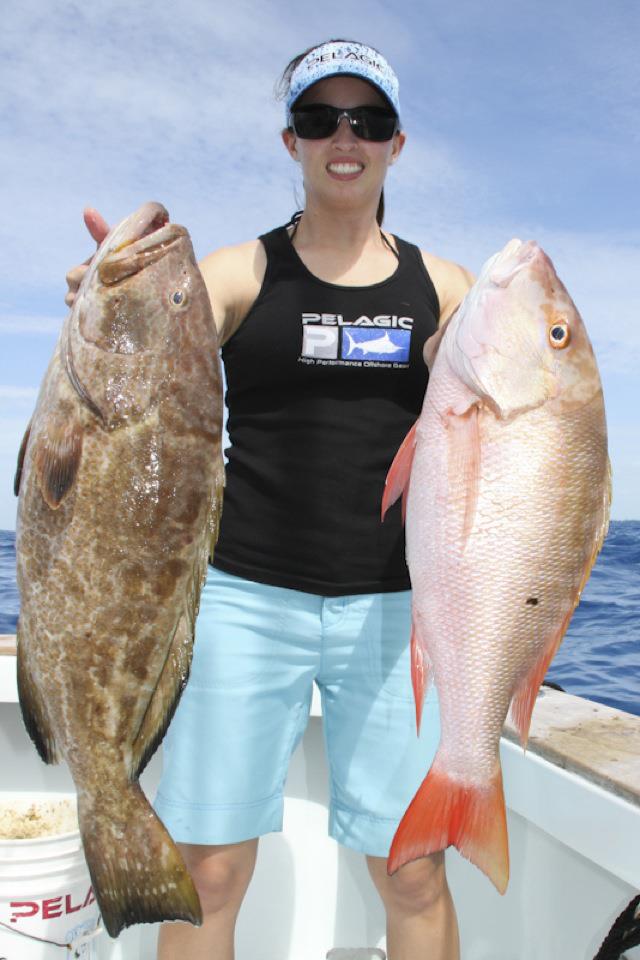 Reef fishing in Islamorada
is a great way to spend a day on the water. We fish the reef year round in the Florida Keys, but the offshore charter boats primarily focus on it from October – April. The reef line runs parallel with the Keys and is an average distance of 4 miles off shore. The reef drops from an average depth of 60' on top to 90' on the bottom. We use all sorts of fishing techniques while on the reef, so don't think it's strictly bottom fishing! Charter boats use all sorts of fishing methods including bottom fishing, trolling, kite fishing, drift fishing, and sight fishing. Common reef fish are sailfish, snapper, grouper, barracuda, cobia, mackerel, shark, African pompano, wahoo, etc. We also catch the occasional mahi and tuna while fishing with live baits, so you have to be ready for everything! Usually they are further offshore but they can be a nice surprise. Many of the fish we catch while reef fishing make good table fare too! So whether you bring some home or just take a bag of fresh fish to a local restaurant, you'll enjoy your catch! There's also quite a few "wrecks" just out side the reef which we fish around too. They're anywhere from 100′ – 200′ of water and our captains know some well known ones as well as some secret ones!
Wreck fishing
is grouped under our "reef fishing" category and many days fishing the wrecks are the way to go!
Most days we start out by catching live bait and then go from there. A full day is always recommended for the best fishing experience, but if a ½ day charter is all you think you can handle or have time for, give the reef a shot! The average travel time in and out is only 20 minutes each way, so you'll have plenty of fishing time! Florida Keys Reef Fishing is a great option for the whole family! If a private charter is not in the budget our Miss Islamorada Party boat (head boat) fishes the reef too and is an affordable way to get out and catch a few fish for dinner.