Bud N' Mary's can customize Florida Keys Group Fishing Charter trips for your group, depending on your size, interests, and budget. We work with many large groups throughout the year, most of which plan annual or semi-annual fishing trips for their companies. Fishing in Islamorada is the perfect corporate event for your company!Bud N' Mary's is now working with wholesalers, fishing clubs, travel agents, etc… in order to set up packaged trips (hotel/fishing/food) and will work on a commission basis!
Contact us at 305-664-2461 or 1-800-742-7945 if you are an agent who is interested! We will help you work out all the details to ensure your client's trip runs smoothly, and make their stay in the Florida Keys a memorable one.
Customers keep coming back because we have some of the best fishing in the world, a skilled and friendly team of captains, and a unique marina with an ideal location in Islamorada! You and your Islamorada Group Fishing Charters will remember your Florida Fishing Charter for years to come, we promise!
Many participants in these groups come back on their own because they've had such a great time! We have a long history of great fishing, come and be a part of it!
Offshore Up to 80 People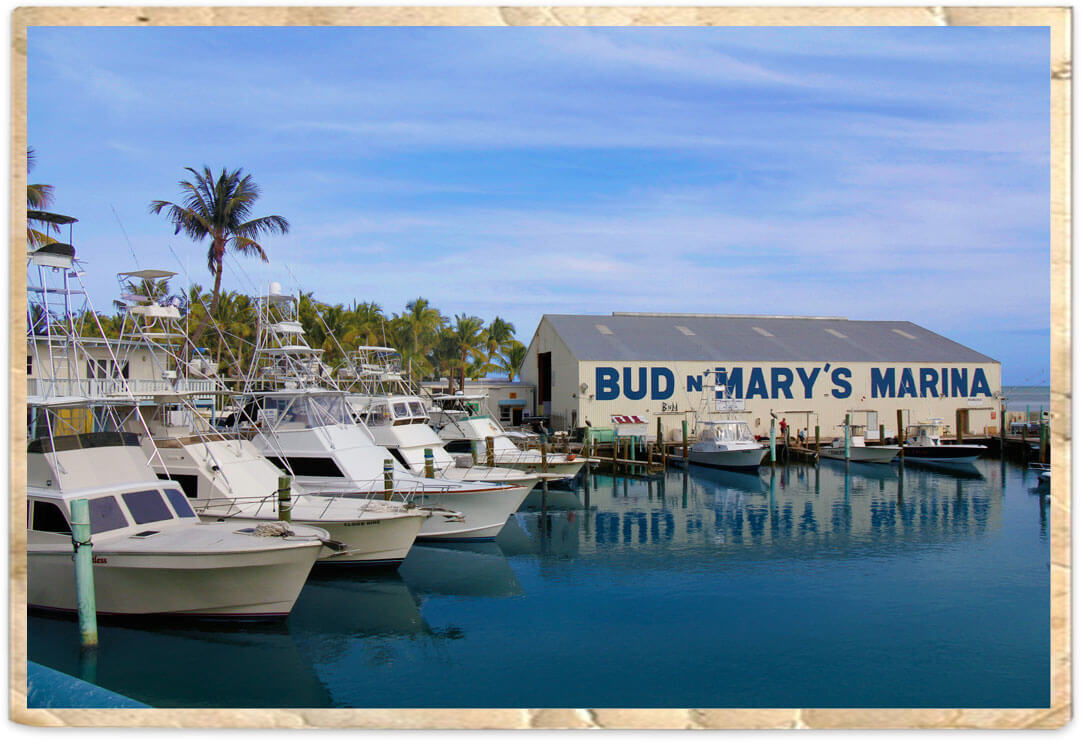 Our offshore fleet has 14 custom built sportfisherman in the 45′ to 55′ range (some with A/C), and carry up to 6 anglers each. These specially designed boats, along with experienced crews and the finest tackle, will assure you the ultimate blue water fishing experience! They often fish off the edge of the reef in the fall and winter in search of sailfish, cobia, kingfish, and other species. During the spring and summer seasons they venture offshore for mahi (dolphin fish), tuna, wahoo, and many other gamefish! We also have one boat, That's Right, which can accommodate up to 22 passengers!
Backcountry Up to 40 People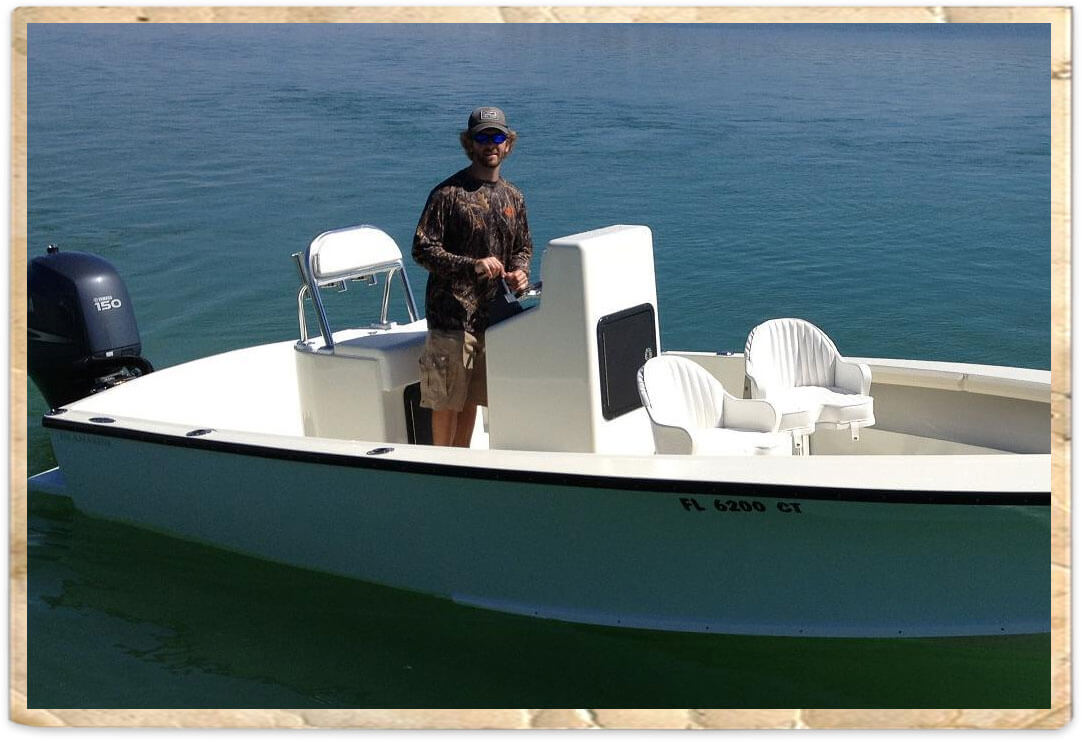 Bud N' Mary's is home to 24 backcountry guides specializing in shallow water fishing in the beautiful waters of the Florida Keys. The 18′ skiffs carry 2 anglers and are designed to navigate the "flats" of the Florida Bay, which is the unique habitat of numerous species of gamefish and wildlife. Our experienced guides provide all types of light tackle and the know-how to assure a great days fishing. They can help organize group tournaments and shore lunches or fish fries which are popular, depending on the season.
Miss Islamorada Up to 49 People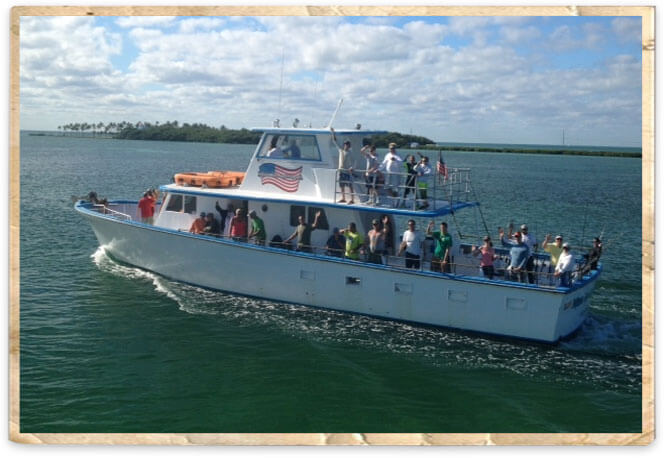 Our 65′ party fishing boat can comfortably entertain up to 49 people for fishing and fun off the beautiful reefs of the Florida Keys.
Let us provide a unique way for your group to gather and experience a great day of fishing! All tackle is provided along with an experienced crew, and catering is available.
Whether your a small group of friends and family, or holding a large corporate meeting, we can satisfy you! Our party boat can also accommodate sunset cruises, sightseeing tours, memorial services, weddings, and other activities.
There are many possibilities so if you have a unique idea please contact us! For further details please consult www.miss-islamorada.com or call us! 305 664 2461
Accommodations Up to 24 People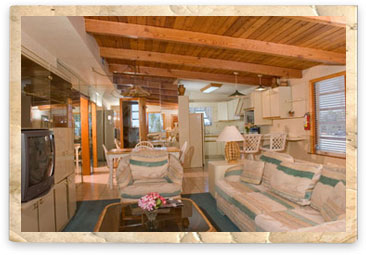 Bud N' Mary's guest rooms can house up to 24 people comfortably. We have several different rooms, a penthouse suite that separates into two different units, a 3 bedroom house with an ocean view, multiple house boats (secured to the dock) and condo offsite, that are all available for rental.
The Marina provides a very unique and beautiful setting for our guests. These rooms are perfect for smaller groups of fishermen who enjoy the the fishing lodge atmosphere, and want to be close to the action! If you are looking for a resort with more amenities, we can help you choose from a variety of close by hotels, depending on your interests and budgets.
Diving, Snorkeling, and Boat Rental
There is also a dive shop , Key Dives, on the property which is full service as well as providing daily snorkeling and dive excursions to the various reefs and wrecks located near by. You can contact them at 1-305-664-2211. Rental Boats are available here as well by Islamorada Water Sports . They can be phoned at 1-305-664-2463.
Transportation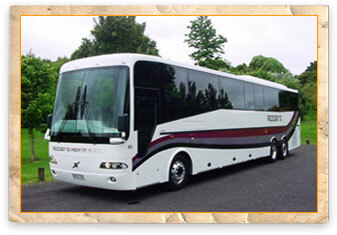 Please call us for details on setting up transportation for your group.We work with several companies which can provide small limousine services or large bus charters and everything in between.