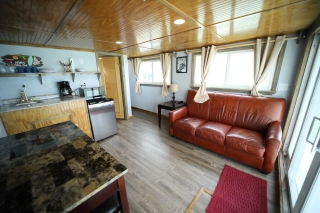 $350.00 per night*
Pricing for up to 3 people.  For 4 people, $400.00 per night
1 Queen bed, 2 twin beds
Living room/Kitchenette with couch and TV (TV in master bedroom as well)
Fridge and microwave (no cooking on-board, sorry!)
A/C
Oceanview
The Swordfish Houseboat is a classic house boat completely remodeled in 2022. It sits with an Ocean View on the outside dock (behind the barn) at Bud n' Mary's Mairna. The boat is secured to the dock and doesn't leave. There is NO cooking on this boat.  We also do not allow children under 15 to stay on the houseboats.
The Swordfish houseboat has one bedroom with a queen bed, smaller bedroom with two twin beds, a bathroom with shower, a futon, Satellite TV, A/C, a mini fridge and a microwave. Wake up on the water as you watch the sunrise over the Atlantic ocean! We have a minimum of a 2 night stay on the Swordfish Houseboat.
*Off season rate of $300.00 per night from August 16th – December 14th.