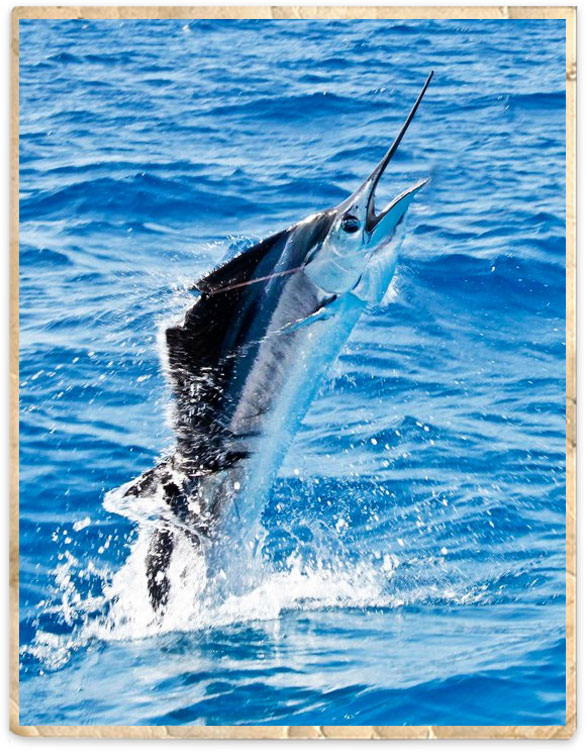 Sailfishing in Islamorada is one of the most exciting types of fishing in all of the Florida Keys. We use light tackle (12 – 20 lb test) and fish only 3 -5 miles offshore near the edge of the reef (anywhere from 20' – 150' of water). A couple things make fishing for sailfish extremely exciting. One of them being sailfish are very acrobatic, jumping multiple times trying to throw the hook. Another is that we literally "sight fish" for them inside the reef many days. We'll see them swimming in water as shallow as 20 feet and cast live baits at them. It's almost like hunting, where the crew will ride in the tower of the Islamorada offshore charter boat and scan the waters for swimming fish. You may feel like your not fishing because you don't have any lines in the water, but this is still a very effective way to catch them. Sailfish are also thought to be the fastest fish in the entire ocean, reaching speeds up to 68 mph, so when you hook one you're going to have a great fight on your hands! Since we use such light tackle there's not too much drag or pressure on the tackle, so even kids can enjoy catching them! Sailfish average 30 – 60 lbs, and it's all catch and release. A "release" is classified as touching the leader, which is a 15 foot piece of heavier mono filament attached to the lighter mainline. Since we don't keep sailfish a picture in the water is usually the best way to remember your catch of a lifetime, or a "Release Mount" is another beautiful option. A release mount is a fiberglass replica of your fish, custom painted to look just like yours did! Boat's fly "release flags" in their outriggers at the end of the day to signify how many sailfish were caught that day.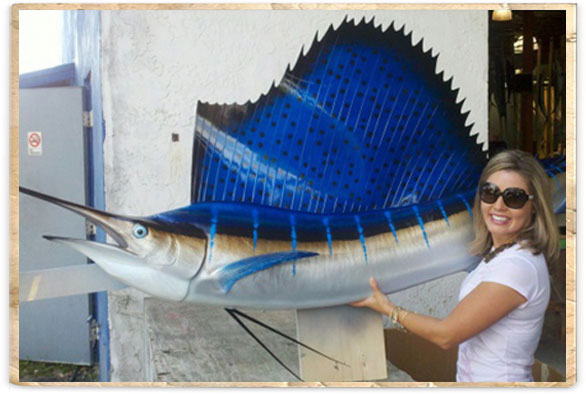 We have tournament proven captains at Bud n' Mary's that can handle both the most serious fisherman as well as the first time family fishermen. Since we are only fishing a few miles out many days, you even have a shot at catching fish on a half day fishing charter. We do recommend full days because that gives you much more time to fish and try different areas, but if a half day is all the time you have, that can be more than enough time to get in on the action many days.
We catch sailfish a few different ways; including slow trolling live bait, sight fishing, as well as kite fishing. Kite fishing entails using "fishing kites", which fly up into the air and we attach our fishing lines to release clips on the heavier kite line. When using this technique it's not uncommon to catch multiple fish in one happening, and every body can work a rod. When the wind gusts it may lift the kite up, and the angler will have to adjust his bait accordingly. You want to make sure to keep your bait in the water at all times. Another condition that will get your blood flowing is when the sailfish are "showering" bait. We will see schools of ballyhoo jumping by the hundreds as packs of sailfish feed on them in shallow water. All of the splashing from the bait jumping looks like a "shower", hence the name. When this is going on it's time to hold on as the boat races over to the fish and cast baits at them, hoping to get the bait to the sailfish before he eats one out of the school and disappears.
The prime times to go fishing for sailfish are the winter months off Islamorada. We usually start catching them with consistency in November all the way through March. Water temperatures play a huge role in the fishing season though, as well as bait migrations. Usually after our first cold front we see the sailfish turn on. Big schools of bait will move out from the shallow waters on the bay-side to the reef where it's warmer. The sailfish in turn will congregate near the reef edge and feed on the bait. Each year in the spring time we typically see a few days of great sail-fishing too. If the wind and current line up just right, the fish will "tail" down sea, swimming on the surface into the current. They literally surf down the waves with the tips of their tails out of the water. It's tough to predict when this will happen, although it's usually in April or May, just for a couple of days.
Just like any type of fish, they can turn on and off from day to day, but Florida Keys Sail-fishing is considered to be very consistent and you have a great shot at catching sailfish every time you head out. Some trips yield a couple of bites and other trips may yield double-digit numbers of bites. On average your fishing for a couple of fish, but if you hit it just right everyone on board might catch and release a sailfish. Patience is key, you never know when pandemonium can break out, and multiple sailfish may be on the line! Call 1-800-742-7945 or 305-664-2461 to book today!
Also if anyone is visiting Mexico and looking for some world class sailfishing down south, be sure to look up the Poverty Sucks fishing team. Capt. Dietmar Kossmann runs a gorgeous 53 foot Hatteras full time down in the Riviera Maya. The sailfish fishing is world class there and Capt. Dietmar is a former Bud n' Mary's captain himself, also uncle to Capt. Rick and Capt. Nick Stanczk. He brings the professionalism and knowledge of an Islamorada captain to the world of saltwater fishing in Mexico. Contact info can be found on their website: Poverty Sucks Fishing Website