Guide:

Rick Stanczyk

Max Anglers:

4

Make:

Contender

Motor:

300 HP

Pricing: Inshore full day - $1035.00 (3rd person – add $100.00)
Half day - $635.00 (3rd person – add $100.00)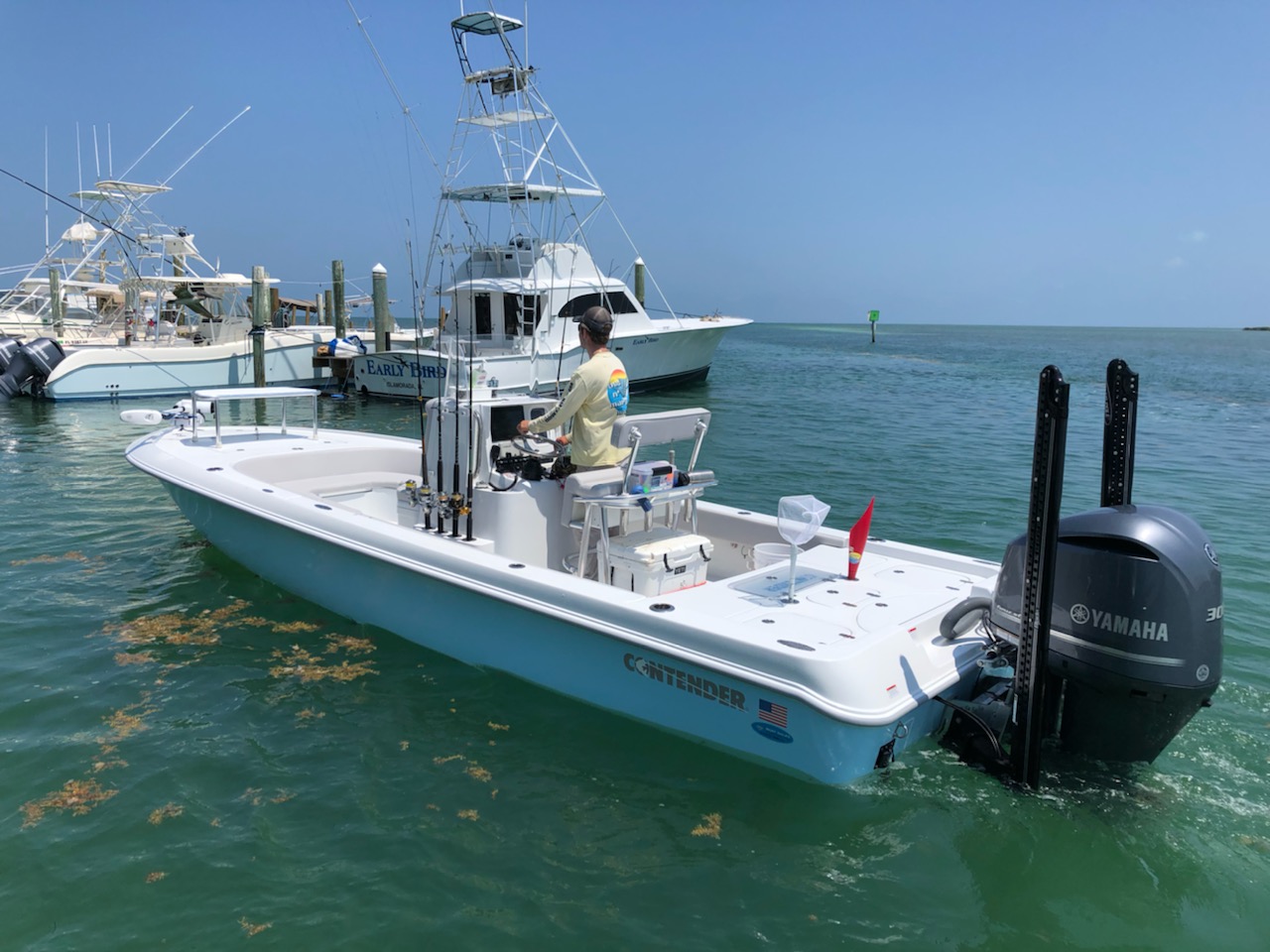 Full day – $1035.00 | 3/4 day – $835.00 | Half day – $635.00
extra person – add $100.00 for 3rd person, add $200 for 4th person
($35.00 discount if paying balance with cash or check)
***Keep up with Capt. Rick's daily fishing reports on these websites***
Islamorada Tarpon Fishing – Daily Tarpon Fishing Report (During Season)
Fishing Islamorada – All other Fishing Reports during non-tarpon season
Facebook: @islamoradatarpon / Instagram: @richardstanczyk
Capt. Rick Stanczyk is a born and raised native of Islamorada, Florida Keys. His family has owned and operated the world famous Bud n' Mary's Fishing Marina since 1978, which has been a mecca in the sportfishing community since 1944.
His father, Capt. Richard Stanczyk Sr, grew up in Miami and started offshore fishing there back in the early 1960s. He moved down to the keys in the late 70s, bought the marina, and began fishing much of the backcountry water.
Richard Stanczyk Sr. guided Capt. Gaspeny to the one-time fly world record bonefish of 14 lbs 6 oz. Rick spent his childhood weekends and days after school fishing with his father, as well as many summers in the bahamas fishing for blue marlin on his uncle Scotts boat 'Catch 22′.
He worked on and around many of the offshore charter boats at Bud n' Mary's while growing up and did leave for school for a few years. He attended University of Central Florida for business administration, and returned home in 2003 finishing his degree online while working at the marina, helping manage the store, website, and other goings on.
Rick has been a professional backcountry fishing guide since 2007, growing a tremendous business in a short amount of time with his business and internet skills, as well as helping the marina as a whole have some of its busiest years to date. He is a calm, cool, collected guide that doesn't scream or yell at his customers. He fishes from a fully restored and customized 1977 Seacraft Master Angler – a truly one of a kind classic hull. It has a couple fighting chairs and a cooler seat to comfortably seat 3 people, it is great especially on windy days as it has a modified V-hull that rides like no other boat in it's class. It is also equipped with a 36 volt minn kota i-pilot trolling motor to allow for stealthily fishing structure, shore lines, channels, and more with the ability to move around and when necessary 'lock on' to a spot and fish. The additional power pole is a great convenience when fishing shallow bays, channels, and flats. Finally it is powered by a 200 hp 4 stroke yamaha to get you to the fishing grounds quickly and safely!
Rick has a passion for catching a variety of fish and loves showing his clients different things, as well as having fun on the water. He also has a vast fishing knowledge passed down by the collective guides at Bud n' Mary's who have been fishing the waters of Islamorada for decades, and is rare to find in such a young guide.
Come fishing with Capt. Rick Stanczyk and your sure to have a great day on the water!