Guide:

Rick Stanczyk

Max Anglers:

3

Make:

Contender

Motor:

300 HP

Pricing: Inshore full day - $1535.00 up to 3 people
Half day - n/a THOUGH off-season (July thru February) rate of $1235.00 for full day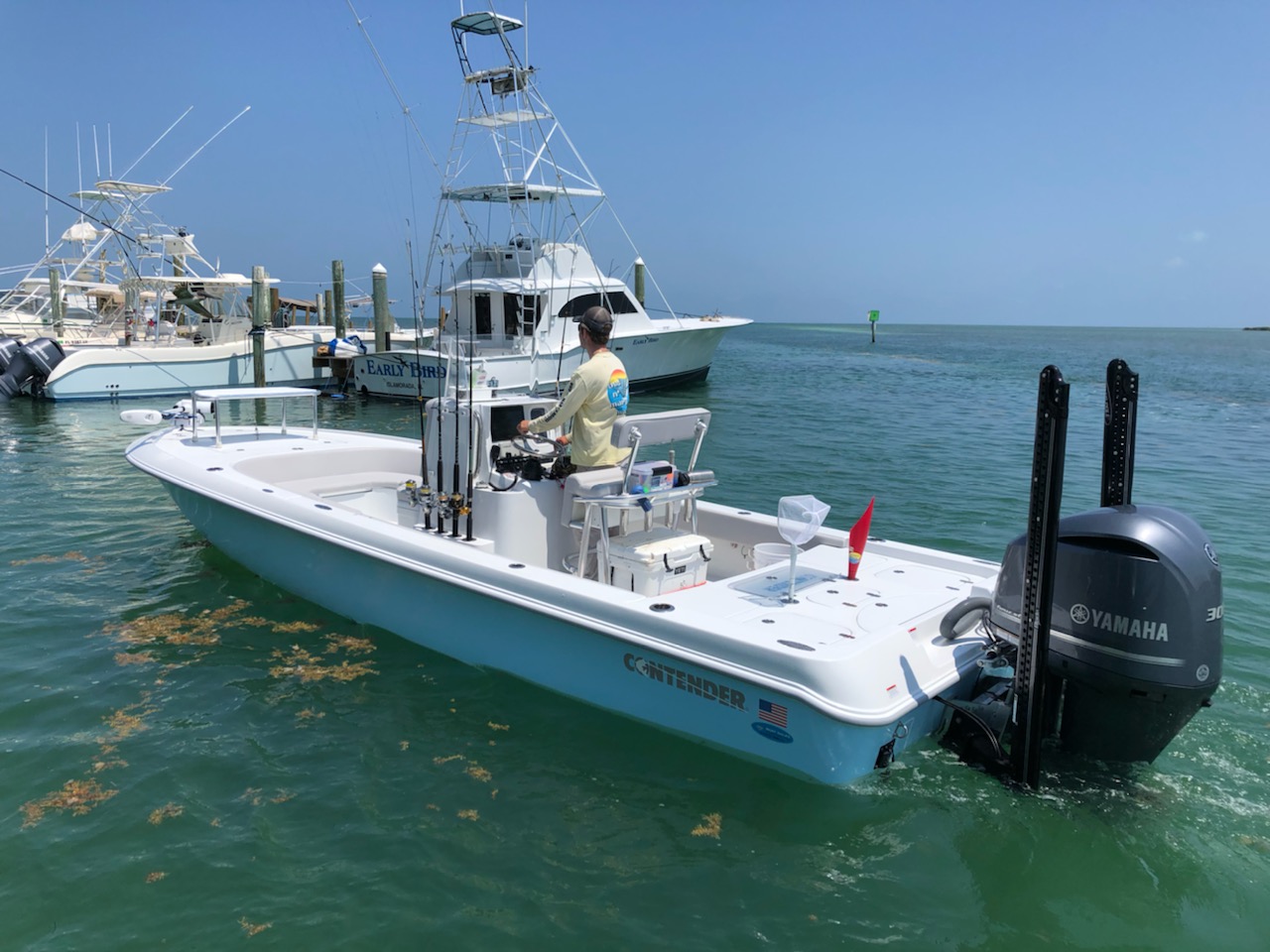 Rates for up to 3 people:
Full day – $1535.00 (February through June, Christmas to New Years)
Off season rate – $1235.00 (July through January)
Sign up to Capt. Rick's email list here for when he opens seasonal (February through June) tarpon fishing dates.  You can email him directly also to inquire about off season availability or to see if he has something available short notice.
Capt. Stephen Byrd is running one of Rick's Contender Bay Boats and his rates are as follows:
$1235.00 full day | $1035.00 3/4 day | $835.00 half day
***Keep up with Capt. Rick's fishing reports on these websites***
Islamorada Tarpon Fishing – Daily Tarpon Fishing Report (During Season)
Fishing Islamorada – All other Fishing Reports during non-tarpon season
Facebook: @islamoradatarpon / Instagram: @richardstanczyk
Capt. Rick Stanczyk is a born and raised native of Islamorada, Florida Keys. His family has owned and operated the world famous Bud n' Mary's Fishing Marina since 1978, which has been a mecca in the sportfishing community since 1944.
His father, Capt. Richard Stanczyk Sr, grew up in Miami and started offshore fishing there back in the early 1960s. He moved down to the keys in the late 70s, bought the marina, and began fishing much of the backcountry water.
Richard Stanczyk Sr. guided Capt. Gaspeny to the one-time fly world record bonefish of 14 lbs 6 oz. Rick spent his childhood weekends and days after school fishing with his father, as well as many summers in the bahamas fishing for blue marlin on his uncle Scotts boat 'Catch 22′.
He worked on and around many of the offshore charter boats at Bud n' Mary's while growing up and did leave for school for a few years. He attended University of Central Florida for business administration, and returned home in 2003 finishing his degree online while working at the marina, helping manage the store, website, and other goings on.
Rick has been a professional backcountry fishing guide since 2007, growing a tremendous business in a short amount of time with his business and internet skills, as well as helping the marina as a whole have some of its busiest years to date. He is a calm, cool, collected guide that doesn't scream or yell at his customers. He currently fishes from a 25′ Contender Bay Boat – one of the nicest, most comfortable boats on the market.  It is powered with a fast, reliable 300 hp Yamaha motor.  It has all the latest electronics including twin 10 ft power poles, trolling motor w/ iPilot anchoring system, advanced livescope & sidescan imaging sonar, and plenty of storage.  The boat rides like a dream even on days when it is blowing 30 mph you can get where you need to comfortably, plus for as big as it is it gets into some fairly skinny water.
Rick has a passion for catching a variety of fish and loves showing his clients different things, as well as having fun on the water. He also has a vast fishing knowledge passed down by the collective guides at Bud n' Mary's who have been fishing the waters of Islamorada for decades.