Guide:

Ted Wilson

Max Anglers:

3

Make:

Maverick

Motor:

150 HP

Pricing: Inshore full day - $900.00 (3rd person – add $100.00)
Half day - $600.00 (3rd person – add $100.00)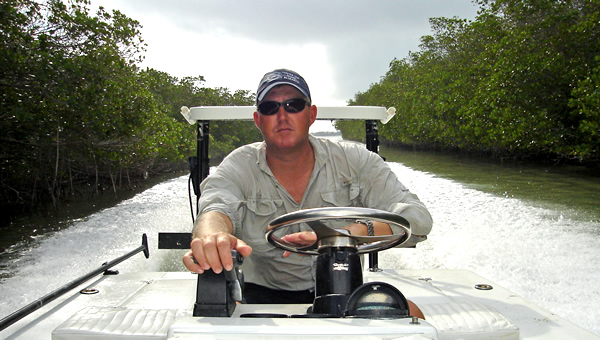 Captain Ted is recognized as one of the finest backcountry fishing guides in the Keys.
Born and raised in Cocoa, Florida, Wilson attended the University of North Carolina-Ashville, where he played soccer and earned an associates degree. Wilson was quickly drawn back to his Florida roots and finished his college career at the University of Florida, majoring in zoology in 1993.
Captain Ted has competed in numerous tournaments including Cheeca Redbone, The George Bush Invitational Bonefish Tournament, World Bonefish Invitationals, Gold Cup Tarpon Fly Tournament, Golden Fly Tarpon Tournaments and many more.
Wilson has been featured in ESPN Outdoors winning the Great Outdoor Games for fly-fishing, ESPN2's Subaru American Outback as well as in Florida Sportsman and Power Motor Yacht Magazine.